The 15th Only Fools Convention is now in the making. After the best lineup for the 30th Anniversary last year, the convention moves from the south coast to Peterborough.
UPDATE 22nd OCT
We are expecting the following guests at this years convention:
Ben Smith – Damien Trotter
Gwyneth Strong – Cassandra
Sue Holderness – Marlene
John Challis  – Boycie
Paul Barber – Denzil
Patrick Murray – Mickey Pearce
Denis Lill – Alan Parry – First Time attending
Steven Woodcock – Jevon – First Time attending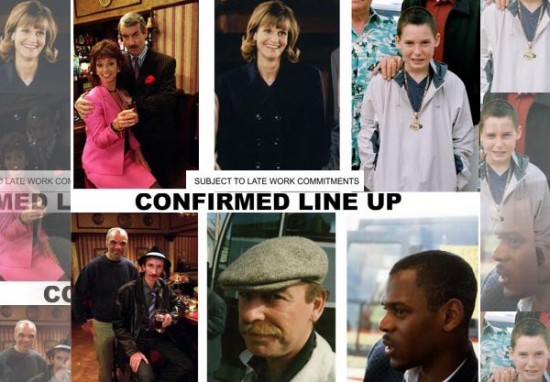 (see last years Only Fools Convention video on foot of the page)
Since 1994 Perry has put together a team of talent to provide Only Fools and Horses fans an Appreciation Society they can be proud of.
The Convention promises many of the Only Fools cast as well as memorabilia, sets, props and an auction, autograph sessions, video screenings, in fact any thing to do with Only Fools and Horses is likely to be there.
You can book your tickets now at the Only Fools Shop – http://www.onlyfools.net/shop/TICKETS-FOR-CONVENTION-2007.htm
Only Fools Convention Venue for 2012
Peterborough Only Fools Convention 15th year is held at:
Vivacity Bushfield Leisure Centre
Orton Centre,
Peterborough,
PE2 5RQ
Make sure you take a look at last years videos here – https://www.ofah.net/blog/14th-only-fools-convention/
Here is an excerpt of last years sell out Convention from Fools Fan Rachel Louise Gerrard
The Video includes Gwyneth Strong – Cassandra, Tessa Peake-Jones – Raquel, Roger Lloyd-Pack – Trigger, John Challis – Boycie, Sue Holderness – Marlene, Paul Barber – Denzil, Roy Heather – Sid, Vas Blackwood – Lennox Gilbey (The Sh-a-dow), Philip Pope – Tony Angeleno, Nabil Elouahabi – Ga-a-ary